---
The 2005 Edmonton Leonard Cohen Night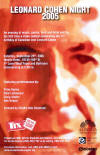 Poster Design by Kadir Ercan
Click on Image to enlarge
LCN 2005 - Giant Card and Nadel Lecture! | Open Stage | LCN 2005 Main Program
The 2005 Leonard Cohen Night is sponsored by the Cohennights Art Society, a non-profit organization supporting the development of community-based cultural arts initiatives influenced by Montreal born Canadian icon Leonard Cohen. His work as a novelist, poet and singer/songwriter crosses national and cultural divides connecting diverse supporters around the world. To celebrate his significant achievements the Cohennights Art Society sponsors a joyous night of festivities that include and evening of music, poetry, food and drink and for the first time a video contest. This night will be held September 24th, 2005 at the Westin Hotel 2nd Level West Foyer and Ballroom of the Westin Hotel, 10135 -100th Street commencing at 5:30 pm.
This year we are excited to present The CHICKAdivas, Vicky Hynes, Dale Ladouceur, Lionel Rault, Craig Shafer and Ann Vriend. These accomplished musicians will present works from Leonard Cohen in a unique way that will impress any Leonard Cohen fan. The evening will be hosted by none other than Bob Chelmick, host of CKUA's "Alberta Morning" and "The Road Home".
| | | | |
| --- | --- | --- | --- |
| | | | |
| The CHICKAdivas | Vicky Hynes | Dale Ladouceur | Lionel Rault |
| | | | |
| | Craig Shafer | Ann Vriend | |
Other activities planned for the evening include musical and spoken word performances, open stage, a silent auction as well as the announcement of the winner of the Leonard Cohen Video Contest the first ever held (nationally or internationally).
The day begins at 2:30 PM the Macdonald Hotel with a special lecture by Cohen Biographer Ira Nadel. This lecture is free however seating is limited so please RSVP to the Leonard Cohen Nights office at 433-4652. Mr Nadel will be presenting never before seen Cohen images at this lecture so be among the first of 60 people to participate in this exciting event.
Tickets are available at Tix on the Square and are $60.00, $25.00 for Students. This includes all festivities as well as a complimentary Red Needle, Leonard Cohen's signature drink and a meal specially created by the Chef at the Westin who is designing a delightful Cohen themed meal. Get your tickets early as we have been sold out to capacity in the past years.
Come and join us as we celebrate the multi faceted achievements of a Great Canadian Icon.
Meetup with other local people to honor the work and words of Leonard Cohen, and share Cohen's influence on music, poetry, dance, art, and hearts. Enter the

Leonard Cohen MeetUp Website